Notifications
The Notifications in Artavolo inform you about important things related to you that happen while you work with the tool
The events for which you will be notified via Notifications are the following:
When you are mentioned in a public discussion. The mentioned people starts with @mention in the public discussions and this functionality allows you to switch to private chat easily.




When a new automation report is generated for a sheet which you are working on it. If you want to create custom notifications you can create a custom automation for events happening in the sheet you are working on.




When receiving a new private message from a contributor or a colleague who you are working with.



You can review your notifications by clicking on the bell icon which is positioned in the top right corner of the window of the sheet. Then you will see your notifications ordered by descending.
If there is no notification, you will see that message.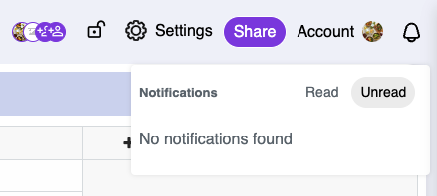 You will notice that there are two kinds of notifications: "New" and "Read". All not read notifications are "New" by default.
When you open the notification it status will be changed to "Read" and the window with detailed information will appear. On opening a notification for "New private message", you will be redirected to this private chat.
Every notification can be removed by clicking on the Remove button when the detailed information window is opened.